been 1 week since i last blogged.
time just passes so fucking fast if u're happy and contented.
seriously i dont mind leading this kinda lifestyle forever man.
work work work.
snarly snarly snarly.
huatters huatters huatters.
gb gb gb.
diablo diablo diablo.
nothing's been up so far.
work's getting along fine. everyone at the workplace is fucking cool and hohsei.
and im one step closer to becoming a l337 bartender with every working day that passes. keke.
true lah, the hours are quite gay. but after everyday of work, once the transport sends me to my area and im walking home, i just feel this really nais sense of satisfaction. but maybe its just the cool 5am air that really owns.
either way, its the nais feeling.
NABEI U ALL HAVE TO COME DOWN ONE DAY LEH. SO FAR ONLY ALVYN SI TEH l337 COS HE CAME DOWN. HAIL ALV.
but then he only drank one fucking pathetic pint of Erdinger and kept asking for free drinks. -.-
but NAOMINE.
HEIL ERDINGER, HEIL GERMANZ, HEIL HITLER.
the weekends were spent keeling monstarz.
monday was spent working.
tuesday was spent killing Mephisto OVER AND OVER AGAIN TO GET PHAT lEWT. but then killing him took too long and i was bored. so i did this.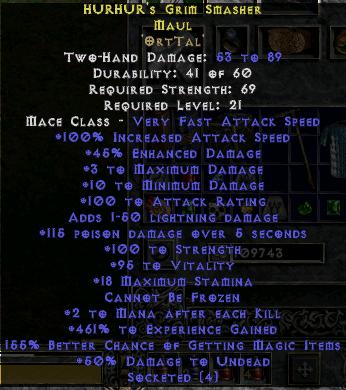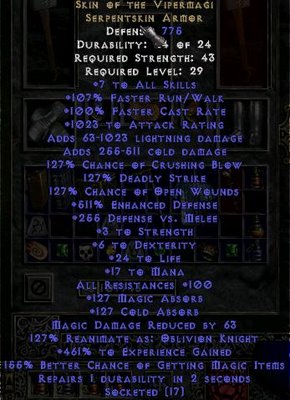 Ownage with the capital O. AGAHAHAHAHA
wednesday was spent with S _ _ _ _ _,
kinda went on a movie marathon. hehe.
watched THE HILLS HAVE EYEZ first.
fucking (Y) shit.
the beginning was a tad boring, but towards the end, it was HOHOHO-SI-l337.
fuck man i swear snarly aint human. she didnt even flinch at those really SUDDEN scenes, where those lancheows pop out from nowhere. wtf man.
i'd give it a rating of 8/10 for being a nais horror/thriller movie.
and then we watched Ice Age 2
was not bad. but the beginning was kinda irrelevant. lol. the mini sloths kinda reminded me of a scene in Madagascar. but yah lah it was still good. at least it was funny. hurhurhurhur.
7.5/10 for a comedy/chill out movie.
ok so to end off, i present to u all
a DIABLO 2 PHOTOLOG> HAHAHAH. ONE OF ITS FUCKING KIND, BAYBEH.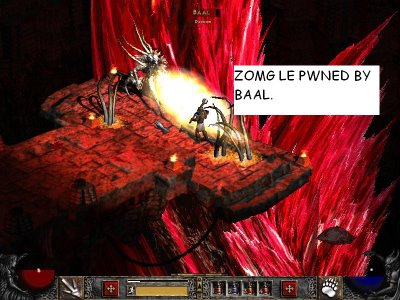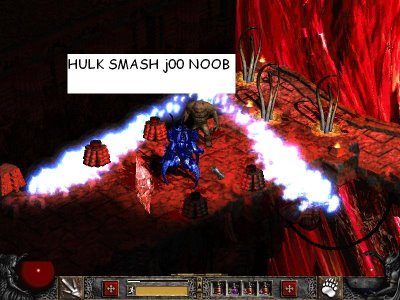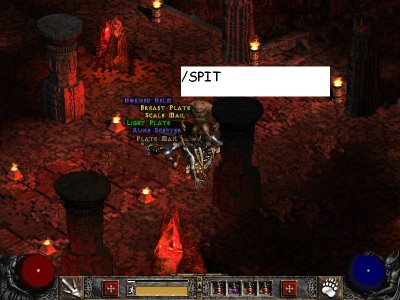 AND TO END OFF,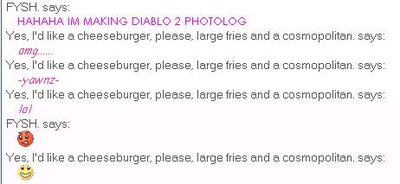 WAO SO SUPPORTIVE SIAL. :@ HAHAHAHA